By: Shelby McCullough
|

Published: February 13, 2023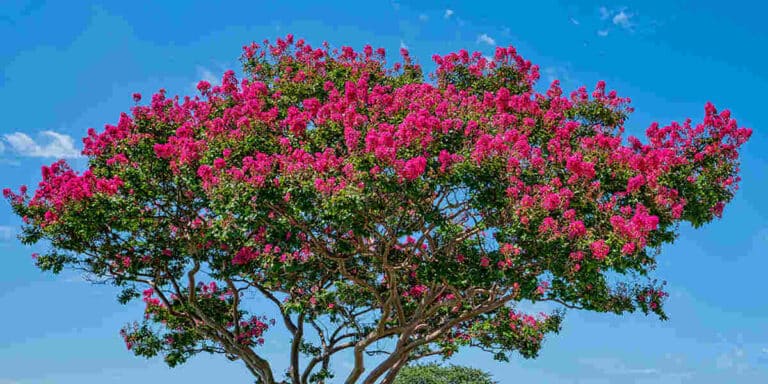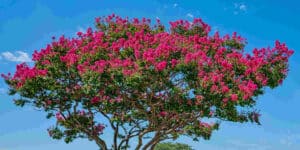 If your front yard is looking dull, planting a vibrantly colored tree can liven up your landscaping. Flowering trees provide a bright, eye-catching feature for your yard, and Florida has several options for beautiful trees that bloom.
At McCullough Tree Service, we provide our neighbors in Dr. Phillips, Orlando, and the surrounding areas with professional tree services, including choosing the best front yard tree layout and removing storm-damaged trees.
Below, we provide nine of the best options for colorful trees in Florida.
1. Crapemyrtle
In late spring and summer, crapemyrtles have clusters of white, pink, purple, or red flowers and dark green leaves. The leaves turn orange, red, and yellow in fall. Crapemyrtles have a high tolerance for drought, so it's an excellent option if you want a tree that can survive Florida's dry seasons.
2. Southern Magnolia
The southern magnolia, also known as magnolia grandiflora, is an evergreen Florida native tree. Large, white flowers with a strong fragrance bloom in spring and summer. This tree grows best in full sun to partial shade.
3. Oleander
Oleander blooms mostly in spring and fall, but its vivid blossoms can appear year round. Oleander flowers can be pink, red, white, yellow, or purple, and its leaves stay green in all seasons.
4. Golden Rain Tree
The golden rain tree is a popular ornamental tree that's hardy enough to thrive in urban areas. It has small, yellow flowers that bloom in late spring and summer, and its leaves turn pale yellow in fall.
5. Bottlebrush Tree
The bottlebrush tree displays a singular style, its name inspired by the tree's brush-like clusters of bright red flowers that appear in spring and summer. The bottlebrush's vibrant blooms attract birds that feed on nectar.
6. Chinaberry
During spring, the chinaberry has tiny white and lavender flowers, and its foliage turns yellow in autumn, making it one of the most colorful trees in Florida year round. The chinaberry tree is native to Asia, and it grows throughout the southeast US.
7. Orchid Tree
Orchid trees have bright green leaves and gorgeous blooms that look similar to orchids and emerge in late winter to early summer. The purplish and white flowers sit on the tips of the tree's branches.
8. Carolina Laurel Cherry
A small, evergreen tree native to the southern US, the Carolina laurel cherry has dainty white flowers that bloom in clumps.
9. Flatwoods Plum
Another Florida native, the flatwoods plum has a short trunk and a broad, shrub-like crown of thin branches. Its white-pink blossoms show up in late winter to early spring.
Get Expert Tree Care Service From Orlando's Top Arborist
Our team at McCullough Tree Service specializes in storm damage tree removal, tree demossing, and tree trimming. If you have concerns about the health of your trees, our certified arborists can help develop a strategy to improve their condition and stop further damage.
Whether you want to plant one of the colorful trees in Florida or find the best small trees for your front house, our experts are available for a consultation. Call us today at 407-734-5854.