By: Shelby McCullough
|

Published: July 4, 2022

Need to remove trees from your property? Avoid doing it yourself, and contact McCullough Tree Service at 407-734-5854.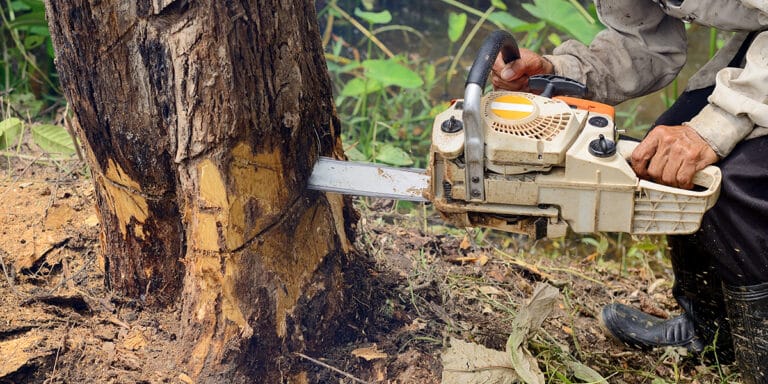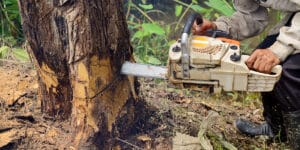 If you have tree branches too close to your home, DIY tree removal is not something you should attempt. Between damaging property, yourself, or others, there are many risks.
Turn to an expert tree company in Windermere for assistance instead of performing a DIY tree removal to eliminate the risk of injury.
Risks of Removing Trees Yourself
Ladders and Heights
You can cut a tree down, but being on a ladder can be precarious whether actively working or not. Whether you use a chainsaw or manual saw, these tools are challenging to operate without a sure footing. It's possible to become unbalanced on a ladder while holding this equipment.
For others, the heights are the problem. Despite having tall ladders, you could easily fall without the best height option on steady terrain. Don't attempt a DIY tree trimming or removal without the proper ladder.
Improper Chainsaw Use or Malfunctioning Chainsaw
Untrained people shouldn't attempt to use a chainsaw for DIY tree removal or any other purpose. Before trying it yourself, you should first know how to cut a tree trunk with a chainsaw properly.
Professional and DIY tree fellers alike may encounter kickbacks when using a chainsaw, which frequently leads to injury or accident for the inexperienced. The last thing you want is to feel this kickback atop a ladder. You'll also need to consider holding it and staying alert to avoid injury.
Electric Shock
Some electric companies trim trees to prevent drooping limbs from causing outages. Many times, the most problematic branches are near power lines. While your electric company may turn off power lines to assist you if your trees hit a line, that doesn't mean they'll also trim away branches on your property.
It's a common requirement for you to remove branches of dead trees yourself. Live electric wires are hazardous as they could cause electrocution if you come in contact with them through a tree branch or your chainsaw.
Gravitational Pull
Many homeowners don't understand the gravitational force on tree limbs. It's easy to misjudge where a tree limb will fall, especially if it's heavy. While it's possible to predict some branches' landings, wind and weight also make a branch fall where you don't expect it.
Some tree limbs require hoisting down to avoid significant injury or damaging nearby structures. It's much easier to leave tree felling or trimming to professionals and avoid DIY projects.
Get Reliable Tree Removal Services Today
Do you need a professional tree removal that clears all hazardous tree trunks and branches from your property? Get help with detailed tree removal services from McCullough Tree Service in Longwood, FL.
No matter your tree removal needs, we'll provide expert assistance and answer any questions you have.
Avoid the dangers of DIY tree removal with us. Learn more about what to do with girdling roots and get tips on other tree problems when you contact our team. Call us at 407-734-5854 today.