By: Shelby McCullough
|

Published: September 1, 2020

Regardless of the type of business, the first impression any client or customer gets is the outside of your business. Beyond keeping the front of your building clean and your parking lot pristine you must ensure a pleasant environment with vegetation, and most importantly your trees. Keeping your trees intact and your business looking beautiful is why you should contact your commercial tree service.
What your commercial tree service can do for you
When it comes to choosing your business there are a few things you look for in a commercial tree service. Your tree service shouldn't just focus on the standard tree removal. Instead, a premiere tree service should have a variety of services that will meet every one of your business's needs. Each of these services will allow you to both keep a safe and professional environment outside the workplace.
What do you look for in a commercial tree service though? There are a large variety of things to look for and the best of them contain a multitude of experts capable of performing a diverse set of services. Here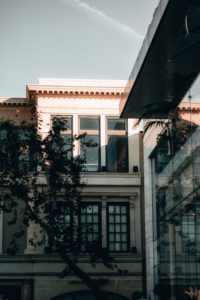 are a couple of services you would want to look for.
Storm Damage Tree Removal
The biggest thing to consider is what possible risks the trees pose to your property and that of your employees, customers, or clients. This is especially a concern in a place like Florida where the hurricane season tends to wreak havoc. Hurricanes cause mass destruction of forests and millions of dollars in damage! Removing and trimming trees will help keep that damage to a minimum but in the event of a storm, you'll have debris, branches, and in the worst of storms, uprooted trees. A commercial tree service will remove that debris and clear up your lot in no time.
Tree Moss Removal
Tree moss, specifically the Spanish moss variety most commonly found in Florida, can ugly up the trees strewn about your commercial property. Instead of allowing you your parking lot to look like a wild unkempt forest, you can find a commercial tree service with a certified arborist. A certified arborist is an expert in tree health, essentially tree doctors, and can expertly remove the Spanish moss from your trees without harm to the tree itself. A certified arborist on staff will keep the trees on your business property looking professional!
McCullough Tree Service
Now that you know why you should contact your commercial tree service you should check out McCullough Tree Service. McCullough Tree Service provides the services discussed, all with expertise and professionalism that is hard to match.
McCullough Tree Service is an exceptional tree service that serves Orlando and the greater Orlando area. Staffed with dedicated experts with years of experience in the tree service industry, McCullough Tree Service will provide satisfaction with any job.
McCullough Tree Service offers tree trimming service. We are a reliable tree company in Central Florida. We specialize in all phases of tree services such as:
Contact us today so we can help you reshape your property.